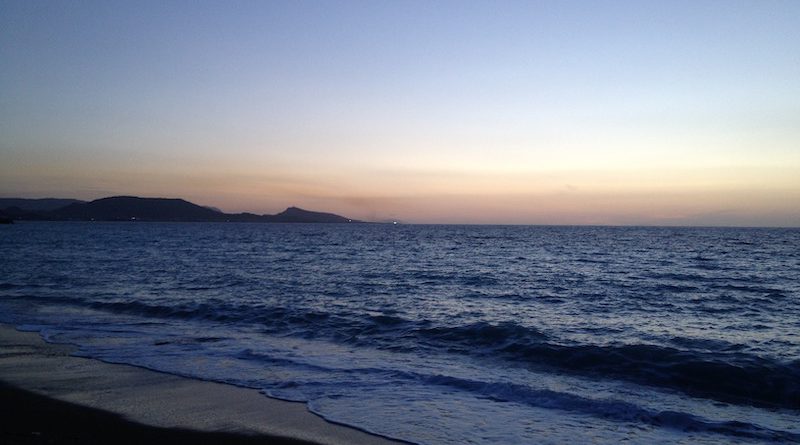 Sea and beaches in Rhodes
Sea and beaches: with about 250 km of coastline,  Rhodes  in Greece is able to fulfill all kinds of needs and to meet all sorts of needs of lovers of the sea and beaches. From the rocky beaches of the northwest coast to the sandy ones in the south of the island , from the wide calm bays, perfect for families and children, to the deserted and uncontaminated beaches, a paradise for young people and privacy lovers, there are beaches perfect for windsurfing and others perennially animated by bikini parties.
And nevertheless by the sea you can enjoy excellent fresh fish, cooked with art and simplicity or stroll in the evening in the moonlight letting yourself be refreshed by the constant sea breeze that never leaves this island. For lovers of water sports it is possible to rent motor boats or sailboats, windsurfing equipment, pedal boats, bicycles and jet skis or go snorkeling and diving. Whether you love relaxation or fun, in short, privacy or confusion, sand or rocks, Rhodes has what you are looking for, and everything at your fingertips!
Beaches on the east coast of the island
Rhodes
On the extreme north tip of the island is the city of Rhodes with its long sandy and pebble beach. On the stretch called Elli, near the Aquarium , sunbeds and umbrellas for hire, water sports and various places on the sea.
Kalithea
A beautiful beach which is accessed through a large pine forest, just 10.5 km from Rhodes city. To reach it, take the road to Faliraki and turn left at the sign. Equipped with sun beds, umbrellas and several taverns.
The thermal baths of Kalithea , collection of photographs.
Faliraki
Located 12 km from the city of Rhodes , the long sandy beach of Faliraki is the realm of water sports and entertainment. In the southernmost part of the beach, several nudist areas.
Antony Quinn
A quiet cove, more populated in July and August, located 15 km from Rhodes city, and made unique by the beautiful pine forests that surround it and its always fresh waters.
Ladiko '
It is a small bay of rocks and sand located 15 km from Rhodes city. Umbrellas and sunbeds available.
Traganou Traganou
beach is perfectly organized with public toilets, showers, umbrellas and sunbeds. The beach is located two kilometers from the center of Faliraki in the direction of Afandou.
Afandou
Located 18.5 km from the city of Rhodes and accessible through the village of Afandou. If you do not have a means of transport, you can reach this beach thanks to a nice little train or a bus.
Kolimbia
Located 25 km from Rhodes city it is a sandy beach with small pebbles, mainly frequented by families. Water bikes for hire.
Tsambika
Located 27 km from Rhodes city, it is a beautiful sandy beach ideal for swimming and water sports. Equipped with a tavern and a small minimarket right next to the bus stop.
Stegna
Sandy and pebble beach located 29 km from the city of Rhodes and only half a km from the town of Archangelos. In Stegna bay you will find several small taverns where you can taste the local cuisine .
Aghati
Located 36 km from Rhodes city, reachable from Charaki, it is a small sandy beach equipped with umbrellas and sunbeds.
Haraki
A combination of pebbles and sand 36 km from Rhodes city. A minimarket and a cafe are located on the seafront .
Kalathos
Located 45 km from Rhodes city, it is a large 4 km long beach with sand and pebbles. On the seafront you will find several wineries and a minimarket.
Vliha
Located 47 km from Rhodes city, it is a very popular beach for families and children. Umbrellas, sunbeds and several taverns are available. Many of the hotels in the area are built along the sea.
Lindos
Popular and picturesque sandy beach with green water. Located 50 km from Rhodes city and equipped with umbrellas and sunbeds. Ideal for families.
Pefkos
A small beach surrounded by pine trees (from which it takes its name) 56 km from Rhodes city. On the seafront several taverns, cafes and a minimarket.
Lardos
Beautiful sandy beach of 2.5 km in length. Umbrellas, sunbeds and water sports available.
Kiotari
A vast beach of fine sand located 60 km from Rhodes city. Get involved in water sports here in Kiotari, at the Water Sports Center, the largest on the island. On the main road, near the beach, there are several fish taverns, cafes and a bakery.
Gennadi
Large sandy and pebble beach 63 km from Rhodes city. Mainly frequented by young people and equipped with several fish and coffee taverns .
Capo Prasonissi
Two bays that combine calm with the wind depending on the direction in which the wind blows and the direction from which it comes. Ideal for windsurfing and located 79 km from Rhodes city.
Beaches on the west coast of the island
Ialyssos
Located 8 km from Rhodes city, along the vast sandy and pebble beach of Ialyssos, the sea is immediately deep. It is an organized beach, with several hotels and sports centers.
Ixia
Located 4 km from Rhodes city it consists of several pebble beaches with palm trees and several private areas. This area is recommended for windsurfing lovers, there are several sports centers close to the beaches.
Fanes
Located 30 km from the city of Rhodes , this fine sandy beach is also a small marina for fishermen. Windsurfing and two tavernas available on this beach.
Monolithos
Although it is not often mentioned in tourist guides, the beautiful and isolated beach of Monolithos offers an enchanting panorama and is one of the main meeting places for nudists.
Apolakia
Beautiful sandy beach of 1.5 km in length.
Sea and beaches